WOODWORKING SCRAP
Wood shredders and chippers for woodworking scrap – Scanhugger is in a quality in a class of its own.
CHOOSING THE RIGHT INDUSTRIAL GRINDER, SHREDDER, AND CHIPPER FOR WOODWORKING SCRAP
Pending the material shredded we provide different grinding solutions and settings to meets the requirements of output. In general, there are two different methods to grind wood scrap. Scanhugger wood recycling equipment handles all types of scrap wood. Green wood or dry wood, large scrap or small scrap, hardwoods or softwoods, solid or composites. All can be grounded down to a fine granulate. In general, there are two ways to grind woodworking scrap; wood shredder and wood chippers – learn more below.
YOUR ADVANTAGES:
Full integration with your existing solution
Low storage and transportation costs
Very low maintenance & energy costs
Homogeneous wood chips
High-quality granulate for sale or use in your own heating plant.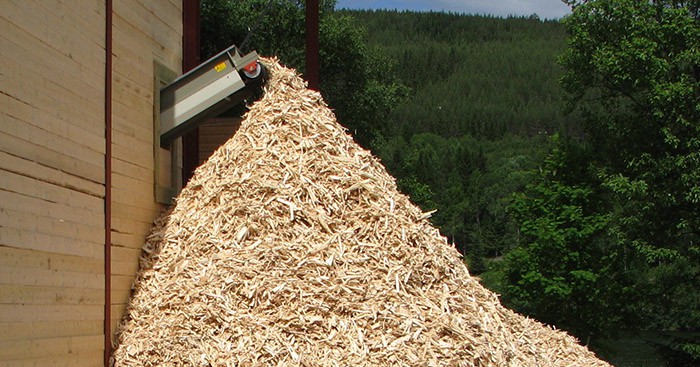 THE RIGHT WOOD GRINDING PARTNER FOR YOUR WOODWORKING SCRAP
We build wood grinders, shredders, chippers and the underlying technology in-house in Denmark. Scanhugger is known for its superior quality and reliability when shredding woodworking scrap. With more than 40 years of experience building and servicing wood shredders in woodworking plants all over the world. We are the ideal partner for your shredding needs.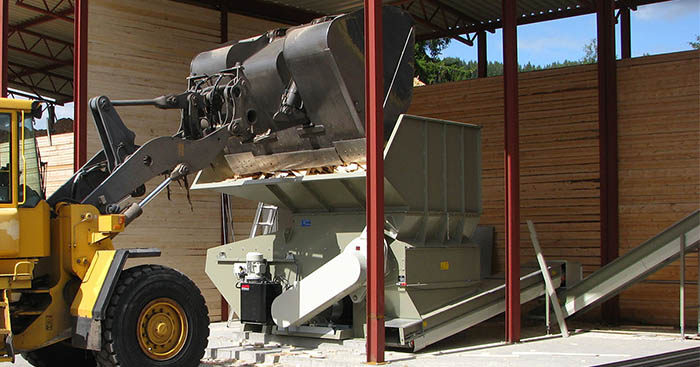 WOOD SHREDDERS
The ideal solution can vary greatly pending the materiel, but in general smaller pieces of woodworking scrap, as offcuts and shavings, has a higher output in a slow rotational shredder. The offcuts are feed vertically into the loading bay in the shredder where a hydraulic press pushes the material towards the rotor. The advanced Smart Ram-system controls the pressure of which the wood scrap is pressed against the rotor. The output material of the shredder is a less refined wood chip than the chipper – between 20mm and 80mm pending screen and knife setup.
WOOD CHIPPERS
The wood chipper also called drum chipper is unique in its capability of processing solid wood, i.e. blocks, slabs, and panelboards into a uniform chip. The benefits of fast tuning shredders, also named woodchippers, is a very similar-sized wood chip, as the wood isn't shredded apart, but cut off in a horizontal infeed chipper. The output material is a uniform wood chip between 5mm to 35mm, pending blade, screen, and rotor setup. It is horizontally fed with either a vibrational or regular conveyor.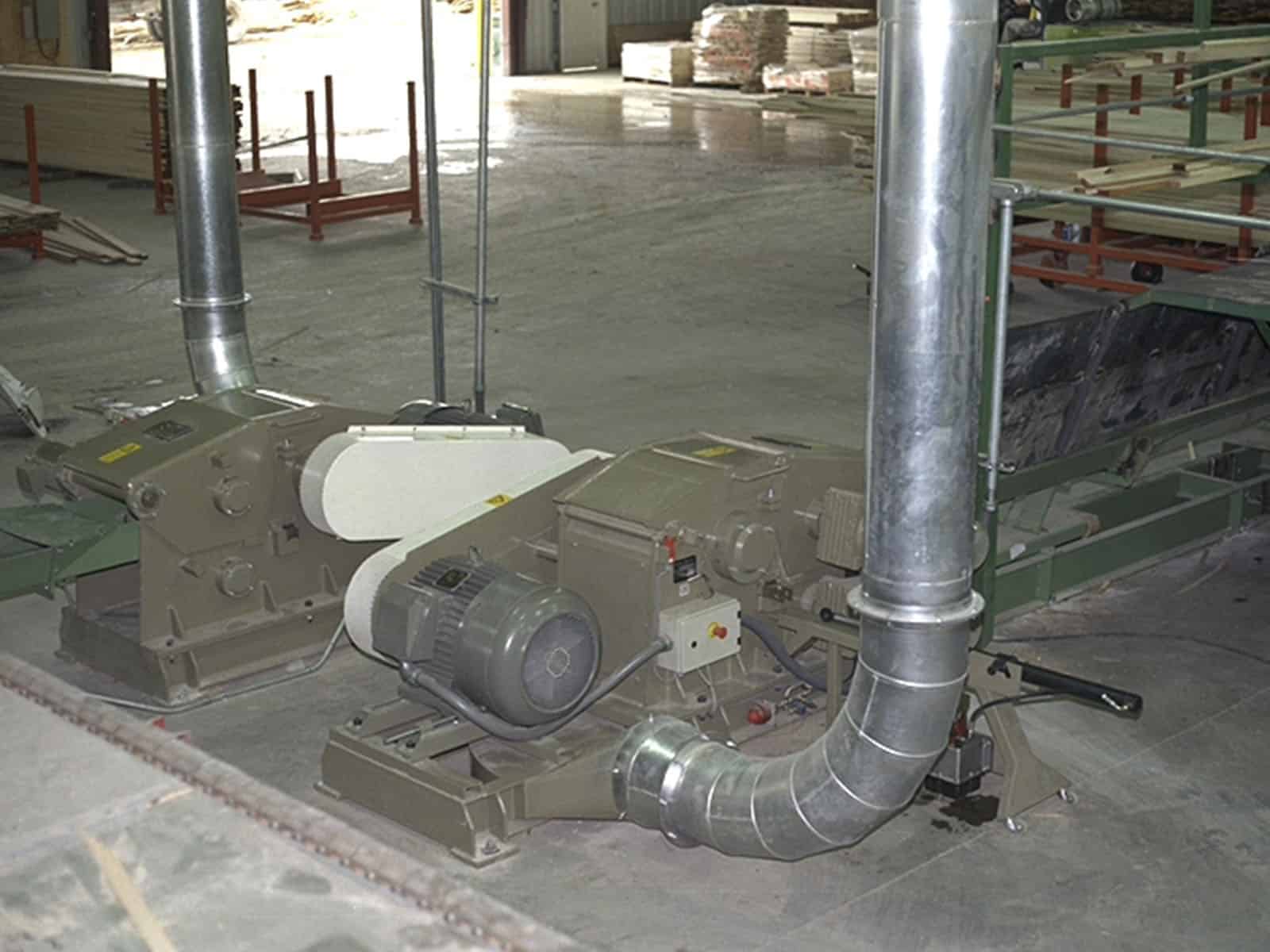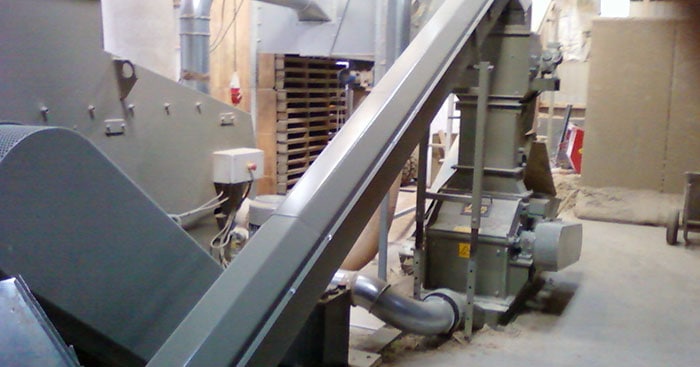 WOOD RE-SHREDDERS AND HAMMERMILL
The Scanhugger re-shredder and hammermills are a secondary wood shredder system that further reduces wood chips to a fine granulate, sizing between 6mm and 15mm. The solution is ideal for pellets and briquetting. The vertical feed re-shredders and hammermills work with a fast-rotating drum. The re-shredders rotor design combined with the knife crown arrangement is ideal for re-shredding almost any kind of pre-shredded material.
The hammer mill, also known as a pulverizer, works according to the principle of impact grinding. Its core consists of a rotor with non-wearing impact hammers and external rolling bearing housing. The Scanhugger Hammermill is highly suitable for grinding coarse chips of solid wood, particleboard, and MDF into a predefined particle size ranging from 6 – 15 mm. Depending on the material you need processed and the particle size of the final product, the hammermill can be mounted with different screen and hammer combinations to fit your requirements.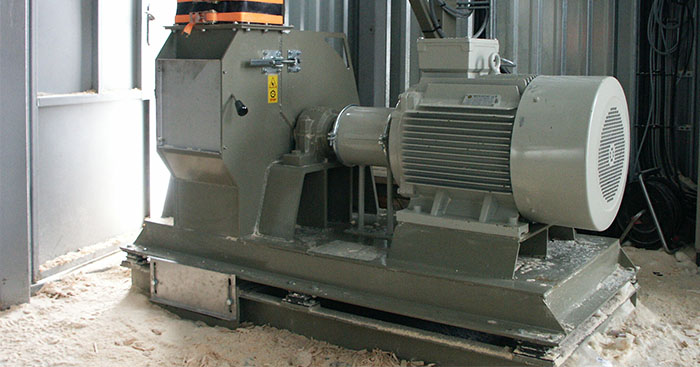 RECYCLABLE WOODWORKING SCRAP
The Scanhugger woodworking scrap shredders are built to a point of overengineering which in turn ensures that they remain reliable into old age, even when put to the toughest living conditions. Scanhugger shredders can be combined with our underlying technology and produce a one-stop turnkey shredding solution.
Be it shredding of bulky wood waste or turning industrial, and sawmill waste into secondary fuel, the tried and tested shredding solutions of Scanhugger provide a valuable solution for your wood waste shredding needs.
OFF CUTS
A robust and reliable shredder is needed when grinding cap timber or offcuts. Our shredders are meticulously developed to be robust and sturdy to specifically handle this usage.
SOLID WOOD WASTE
A sturdy and reliable cutting system is required for shredding solid wood waste. We offer wood waste grinders that are tested and proven in processing all types of solid wood.
PARTICLE AND MDF BOARDS
Our industrial wood shredders are especially well suited for shredding all types of board materials. Both particle boards and MDF boards are shredded reliably and efficiently. We can always offer a trouble-free size reduction solution depending on the board size and the desired throughput rate and granular size.
WOOD SPLINTERS
Scanhugger industrial wood chippers are well proven in the shredding of long wood splinters. The specialized drum chipper is designed to pull splinters in independently and reliably shred them. Our rotary shears are particularly sturdy and have a long service life.
PALLETS AND PACKAGING
Shredding pallets and packaging with metal inclusions as nails, screws and clamps, are no problem at all for the robust Scanhugger cutting unit. After shredding, the metal pieces can be easily removed with a magnet. We offer customized comprehensive solutions for shredding pallets: From shredding machine and discharge unit to metal separation – all from one source
WOODWORKING WASTE
Production waste from the wood processing industries. When shredding woodworking waste from the wood processing industry, it is very important for the shredding machines to maintain high availability particularly in multi-shift operation. Therefor, we build reliable waste grinders that are particularly designed for day in day out performance. Moreover, the low maintenance requirements further increase availability.
VENEERS
Shredding thin veneers appears to be very easy at first glance. But correct wood grinder configuration is a decisive factor here. With our drum chippers with a pusher feed system offers you a customized wood shredding machine especially designed for shredding veneer.
BARK
Two shredding systems are available for shredding bark pending the moister content. The fast turning drum chippers work well with wet bark, while our HL single-shaft series is the preferred system for dry and hard bark.
PAPER AND CARDBOARD
The reliable shredder-system can cost-effectively reduce and shred the material in advance before cartons and paper are pressed into bales and defibred. This volume reduction step can greatly benefit a recycling companies as well as in recycling centers or cardboard and corrugated cardboard factories.