WASTE WOOD PROCESSING AND RECYCLING
Processing and sustainable recycling of waste wood
USED TIMBER AND WOOD PROCESSING
Besides the material utilization, the energetic use as a renewable energy source comes to the fore. This is only possible by an efficient shredding of the raw materials for further processing.
Additionally, there are required wood waste processing technologies, which fulfill the requirements with regards to purity and particle size. For this Scanhugger has been your competent contact for many years. Our range of products comprises the complete system technology from planning to commissioning. Our customers are using our system expertise in the field of wood processing, large chipping plants, biomass power plants, sawmills, processing plants for used timer and pellet plants. Manufacturers of wood materials and furniture appreciate our machines "Made in Denmark".
YOUR ADVANTAGES:
Fast and effecient shredding
One-stop shredding solution
Robust and rugged design
Low cost of handling
Low maintenance needs.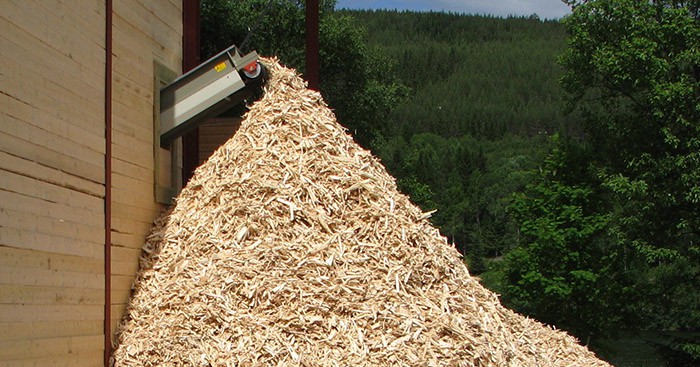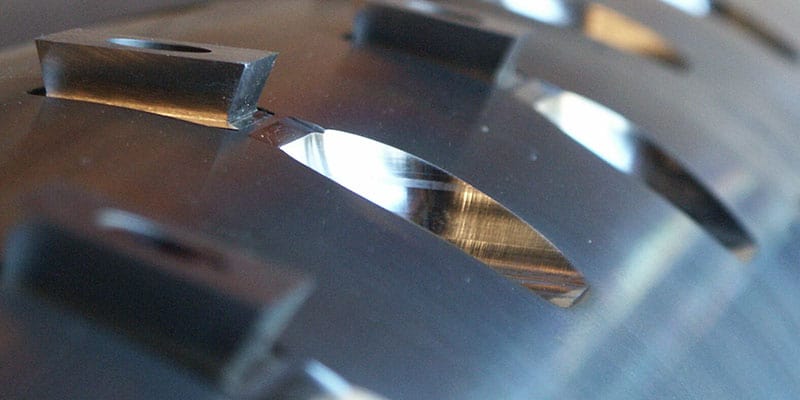 UNIQUE WOOD WASTE SHREDDING TECHNOLOGY
Scanhugger specializes in wood shredder and wood chipper technology with a vast number of auxiliary products and solutions that enable us to produce reliable waste wood shredding solutions.
Scanhugger waste wood shredders provide a high-quality wood chip tailor made to our needs. Our solution for waste wood processing offers a new source of income stream for what would otherwise be considered waste. We design turnkey wood waste shredding systems that are customer specific, utilizing the best solutions for your requirements. We are proud to represent the very best solutions for shredding wood waste with an innovative and profitable solution to waste wood processing.
THE ROTOR – STURDY BY DESIGN
The rugged, heavy-duty frame and rotor, along with the chrome nickel shaft and over-sized roller bearings, are engineered to accommodate the heavy shock loads typical of shredders. Rotor and shafts for the HL 2/5/5 and HL 2/7/10 are turned from one piece of steel grade ST.60. All other rotors used for the HL-series are a two-piece construction using high-grade chrome-nickel steel for the shaft. The rotor body is turned from a steel tube ST.52. The rotor body and shaft are connected using high torque, conical power locks.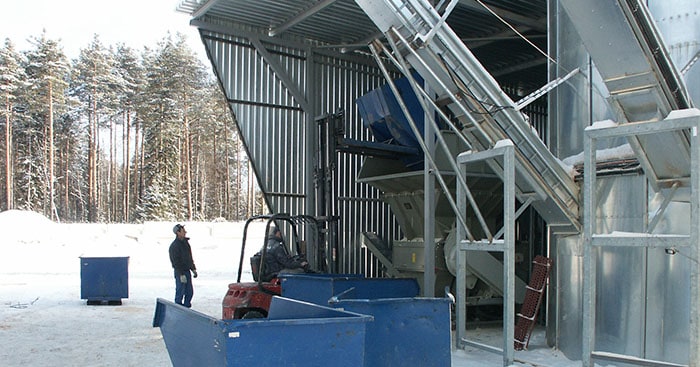 WASTE WOOD PROCESSING FOR RECYCLING
Recycling renewable resources such as wood plays an important part in environmental protection. Wood is often used for pallets, chipboard and demolition wood, etc. At the end of its life large quantities of it end up as waste wood on recycling on your premises. Then particularly clean waste wood can be recycled and reused as a new product (e.g. recycled chipboard).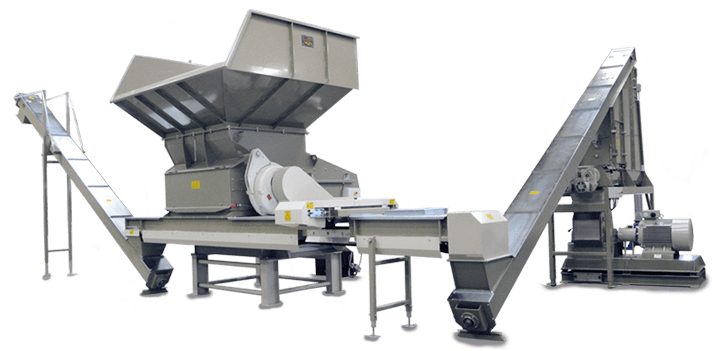 THE WASTE WOOD SHREDDING PROCESS
We build our reliable industrial wood shredders on more than 40 years of experience. This ensures the production of a homogeneous granulate with day in, day out performance. We configure the wood shredder or chipper for woodworking scrap. Exactly according to your needs. Transported to where you need it. Regardless of how you are planning to use the wood chips. The reduction in size from the waste wood also reduces your disposal, transport and storage costs.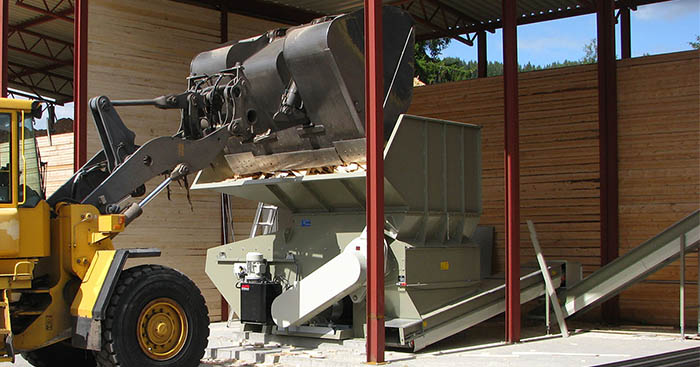 1) THE PRIMARY SHREDDING PROCESS
After the wood has been sorted in accordance with the waste wood grades, A1 and A2 waste wood is processed in the wood shredder. The shredding system, pending the setup, can shred any type of wood waste down to a homogenous wood chip and separate nails and other metal parts from the material.
2) MAGNETIC SEPARATION OF FERROUS METALS
In the second step, the separation of ferrous metal parts is removed from a stream of chips. Separation can be done in three different ways pending the setup: Either with a overbandmagnet, installed perpendicular to the material flow. With a drum magnet within the sucking system or with a drum separator installed before re-shredding. The permanent magnet removes all ferrous particles from the material.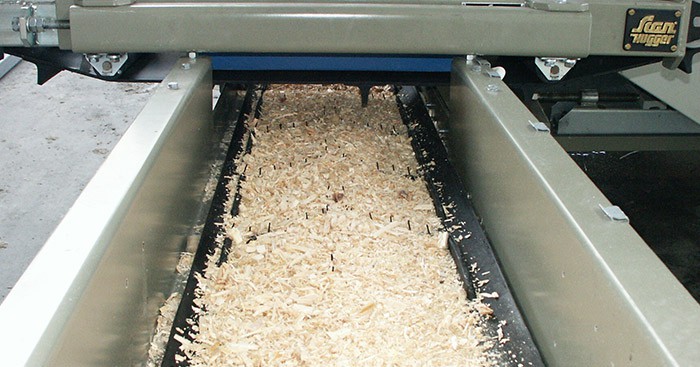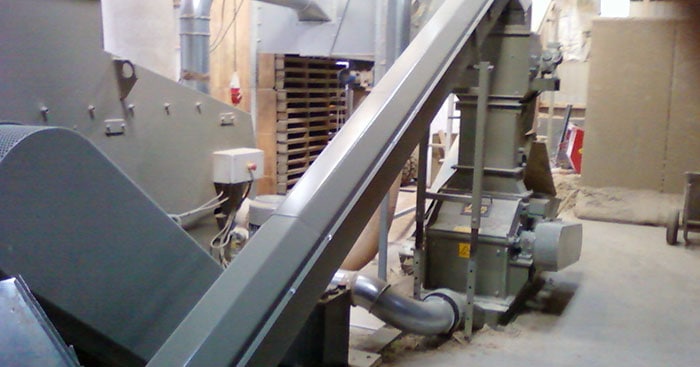 3) RE-SHREDDING – GRANULATION OF THE SHREDDED WOOD WASTE
Pending your preferred size of wood granulate, the shredded wood waste, now free of ferrous metals, enters the second re-shredding stage. This extra step is only required when a homogenous wood granulate of down to 6mm is needed. The final product is a to ensure that the recycled material is of high quality throughout to produce chipboard, animal beading and briquettes.
TYPES OF BIOMASS FOR SHREDDING
The Scanhugger biomass recycling shredders are built to a point of overengineering which in turn ensures that they remain reliable into old age, even when put to the toughest living conditions. Scanhuggers wood waste shredders can be combined with our underlying technology and produce a one-stop turnkey shredding solution.
Be it shredding of bulky wood waste or turning industrial, and sawmill waste into secondary fuel, the tried and tested shredding solutions of Scanhugger provide a valuable solution for your wood waste shredding needs.
OFF CUTS
A robust and reliable shredder is needed when grinding cap timber or offcuts. Our shredders are meticulously developed to be robust and sturdy to specifically handle this usage.
SOLID WOOD WASTE
A sturdy and reliable cutting system is required for shredding solid wood waste. We offer wood waste grinders that are tested and proven in processing all types of solid wood.
PARTICLE AND MDF BOARDS
Our industrial wood shredders are especially well suited for shredding all types of board materials. Both particle boards and MDF boards are shredded reliably and efficiently. We can always offer a trouble-free size reduction solution depending on the board size and the desired throughput rate and granular size.
WOOD SPLINTERS
Scanhugger industrial wood chippers are well proven in the shredding of long wood splinters. The specialized drum chipper is designed to pull splinters in independently and reliably shred them. Our rotary shears are particularly sturdy and have a long service life.
PALLETS AND PACKAGING
Shredding pallets and packaging with metal inclusions as nails, screws and clamps, are no problem at all for the robust Scanhugger cutting unit. After shredding, the metal pieces can be easily removed with a magnet. We offer customized comprehensive solutions for shredding pallets: From shredding machine and discharge unit to metal separation – all from one source
WOODWORKING WASTE
Production waste from the wood processing industries. When shredding woodworking waste from the wood processing industry, it is very important for the shredding machines to maintain high availability particularly in multi-shift operation. Therefor, we build reliable waste grinders that are particularly designed for day in day out performance. Moreover, the low maintenance requirements further increase availability.
VENEERS
Shredding thin veneers appears to be very easy at first glance. But correct wood grinder configuration is a decisive factor here. With our drum chippers with a pusher feed system offers you a customized wood shredding machine especially designed for shredding veneer.
BARK
Two shredding systems are available for shredding bark pending the moister content. The fast turning drum chippers work well with wet bark, while our HL single-shaft series is the preferred system for dry and hard bark.
PAPER AND CARDBOARD
The reliable shredder-system can cost-effectively reduce and shred the material in advance before cartons and paper are pressed into bales and defibred. This volume reduction step can greatly benefit a recycling companies as well as in recycling centers or cardboard and corrugated cardboard factories.