SHREDDING PALLET, CRATE AND PACKAGING WOOD
– CONTAMINATED WOOD WASTE SHREDDERS
Robust industrial wood shredders developed to handle all types of wood waste; including single-use pallets, damaged euro pallets, and shredding packaging wood.
WOOD RECYCLING SHREDDERS FOR WOOD WASTE WITH FERROUS METAL PARTS
Scanhugger offers complete wood recycling solutions for damaged pallets, single-use crates, and other contaminated wood wastes. The reliable industrial wood shredders from Scanhugger is the logical choice for day in, day out performance. Our customized shredding solutions include industrial wood shredders, wood chippers, grinders, hammermills, conveyors and metal separation all feed from one or multiple sources.
YOUR ADVANTAGES:
Low storage and transportation costs
Very low maintenance & energy costs
Homogeneous wood chips free form metal
High-quality granulate for sale or use in your own heating plant.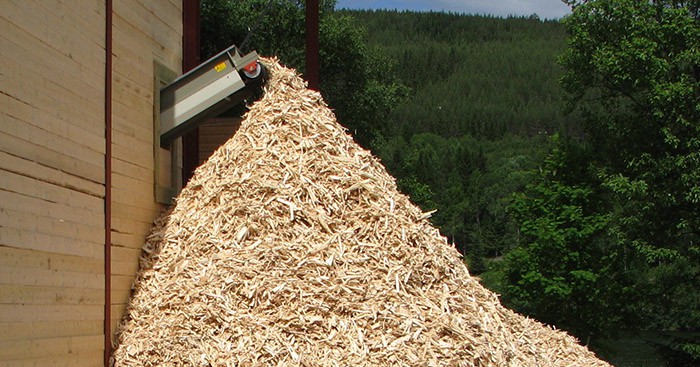 SHRED PALLETS AND PACKAGING WOOD INTO PROFIT
Our robust industrial wood shredders were developed to handle all types of wood waste; including single-use pallets, damaged euro pallets, and packaging wood.
Varying on the required throughput, we offer a range of shredders that were designed with the shredding of pallets and packaging wood. As the design of the system including the hopper and conveyor system is adapted to your individual requirements, loading may be done either by conveyor belt, wheel loader, forklift, grabber or even manually.
Depending on the pallet cutter, throughputs of up to 6000 kg/h may be reached with very low energy consumption. The material is removed by conveyor belt, screw conveyor, spiral conveyor or suction system, depending on the required solution. The granulate size is homogeneous and ranges between 15 to 250mm, depending on the diameter of the screen and the intended use.
PREMIUM GRANULATES FREE OF METAL
All our industrial wood shredders and chippers produce a very high quality granulate for the immediate use in wood chip heating systems or to produce briquettes. Metal parts such as nails, screws, clamps or metal fittings are no problem for the cutting system in the HL-series wood shredders: The metal is shredded together with the pallets and packaging wood. Then removed by an over band magnet raised perpendicular to the chip conveyor. The iron particles are then dropped into a collecting tray or box. No matter your preferred output we got you covered.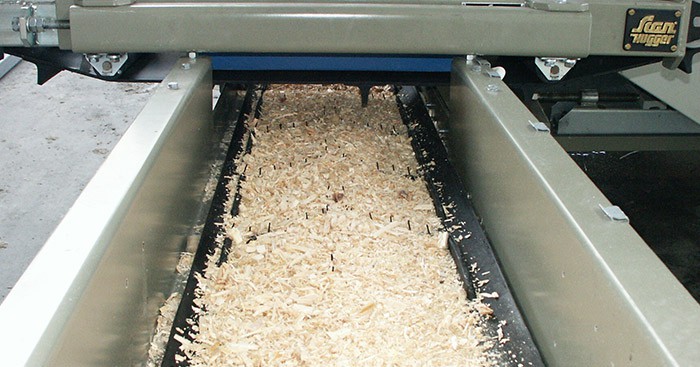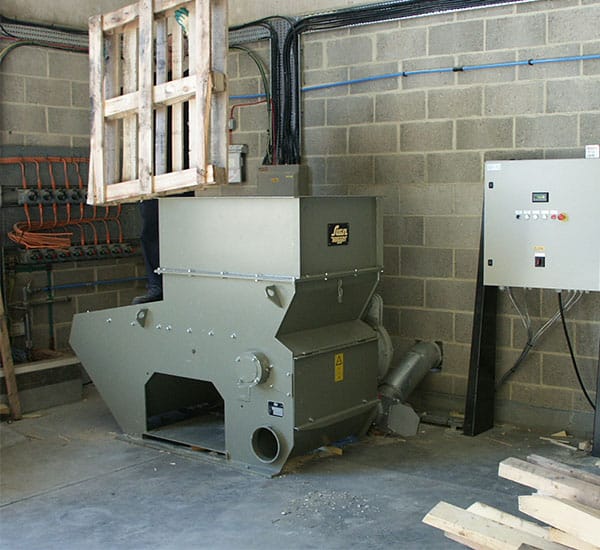 ARE THERE DIFFERENT SHREDDING TECHNIQUES REQUIRED DEPENDING ON THE PURITY OF THE WOOD?
Shredding contaminated wood waste with ferrous metals in them, as with pallets and crates that have reached the end of use, the slow turning industrial wood shredders is the optimal choice. From there the shredded wood chips with metal are sent under an over band magnet where the ferrous metals are separated from the conveyor belt.
Scanhugger is one of the leading wood recycling equipment manufacturers in the world. We produce industrial wood shredders, industrial wood chippers, and wood grinders all designed and made in-house in Ikast, Denmark.
GENERAL INFORMATION ON PALLETS AND WOOD PACKAGING
Pallets and wood packaging are an integral part of modern-day transport and warehousing operations. However, the production of euro pallets, single-use pallets, crates and wood packaging, in general, generates a high volume of wood waste, both at production and the product has reached the end of life. Wood waste which may be leveraged as a source of energy. In combination with waste wood from damaged pallets or wood packaging, for instance, vegetable or fruit crates, this is an opportunity to generate new fuels for thermal recovery.