BIOMASS RECYCLING SOLUTIONS FOR THE WOOD PROCESSING INDUSTRIES
Industrial wood shredders, chippers and grinders developed to handle all types of waste wood for biomass recycling
BIOMASS RECYCLING FROM WOOD WASTE
Wood processing industries primarily include sawmilling, plywood, wood panel, furniture, building component, flooring, particleboard, molding, jointing, and craft industries. As with plywood mills and sawmills the biomass recycling can be places directly at the sorse of the wood waste production. Wood waste at all stages of refinement can be recycled and reused as energy.
The amount of waste generated from wood processing industries varies from one type of industry to another depending on the form of raw material and finished product. Historically most recycled woods went into panels manufacture. Now, however, added value products such as landscaping products, animal and poultry bedding, paths, playground surfaces, and heating.
Scanhugger delivers well-developed and reliable processes for improving the quality and efficiency of biomass recycling.
YOUR ADVANTAGES:
Low storage and transportation costs
Very low maintenance & energy costs
Homogeneous wood chips
High-quality granulate for sale or use in your own heating plant.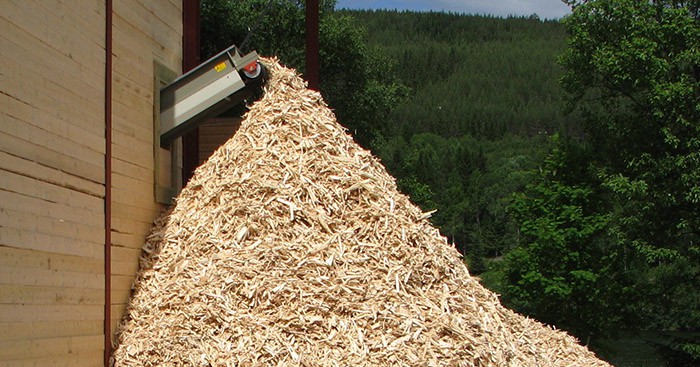 BIOMASS FROM WOOD PROCESSING
The waste resulted from wood processing is influenced by the diameter of logs being processed, type of saw, specification of product required and skill of workers. Generally, the waste from wood industries such as saw millings and plywood, veneer and others are sawdust, off-cuts, trims, and shavings.
Wood waste arises from cutting, sizing, re-sawing, edging, while trims and shaving are the consequence of trimming and smoothing of wood. In general, processing 1,000 kilos of wood in the furniture industries will lead to the wood waste generation of almost half (45 %), i.e. 450 kilos of wood. Similarly, when processing 1,000 kilos of wood in a sawmill, the waste will amount to more than half (52 %), i.e. 520 kilos of wood. Wood waste that can greatly benefit your turnover to recycle.
The biomass wastes generated from wood processing industries include sawdust, off-cuts, and bark.
Recycling of wood wastes in small to medium scale wood industries can greatly benefit from turning off-cuts and shavings into heating of the production halls. Turnkey grinding solutions we have developed and improved for more than 40 years.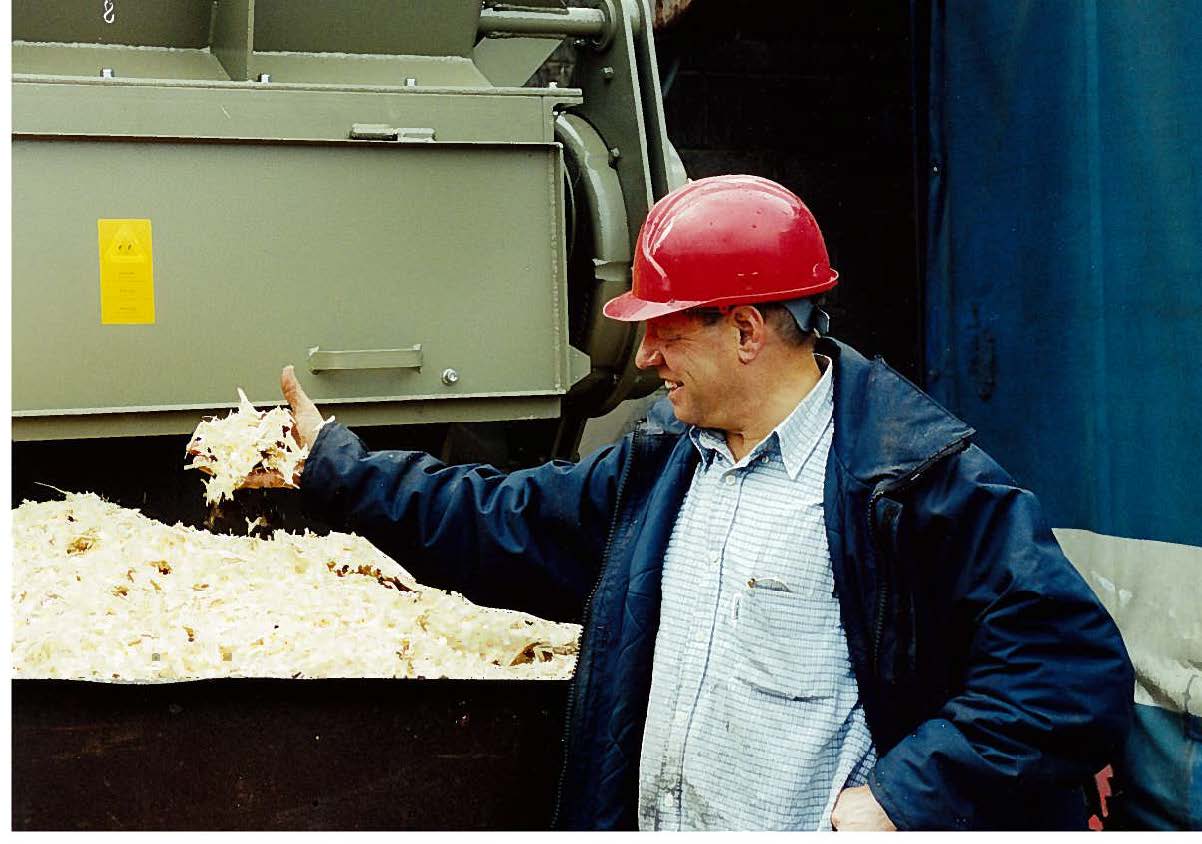 RECYCLING OF BIOMASS
The use of wood wastes is usually practiced in large and modern establishment; however, it is commonly only used to generate steam for process drying and heating of the production facilities.
Recycling of wood wastes is not done by all wood industries, particularly by smallholders. These wastes are normally used as fuel for brick making and partly also for cooking. At medium or large establishments some of the wastes, like dry sawdust and chips, are being used as fuel for wood drying process. Bark and waste sawdust are simply burned or dumped.
IMPORTANCE OF HEATING VALUE
The heating or calorific value is a key factor when evaluating the applicability of combustible material as a fuel. The heating value of wood and wood waste depends on the species, parts of the tree that are being used (core, bark, stem, wood, branch wood, etc.) and the moisture content of the wood. The upper limit of the heating or calorific value of 100% dry wood on a weight basis is relatively constant, around 20 MJ/kg.
In practice, the moisture content of wood during logging is about 50%. Depending on transportation and storing methods and conditions it may rise to 65% or fall to some 30% at the mill site. The moisture content of the wood waste in an industry depends on the stage where the waste is extracted and whether the wood has been dried before this stage. For the best possible start – try our free wood waste analysis.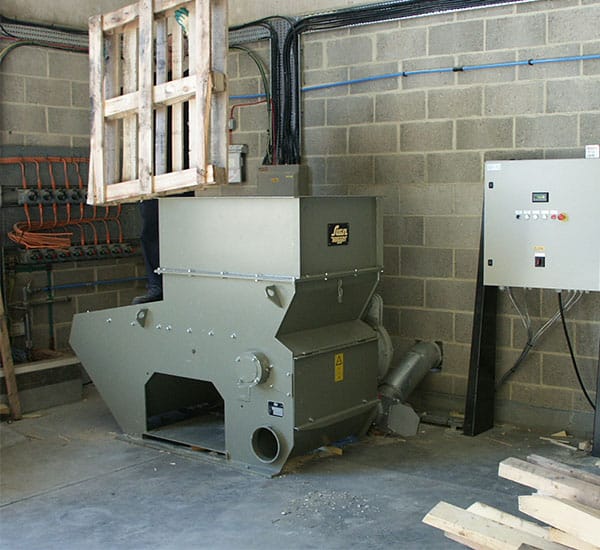 TYPES OF BIOMASS FOR SHREDDING
The Scanhugger biomass recycling shredders are built to a point of overengineering which in turn ensures that they remain reliable into old age, even when put to the toughest living conditions. Scanhuggers wood waste shredders can be combined with our underlying technology and produce a one-stop turnkey shredding solution.
Be it shredding of bulky wood waste or turning industrial, and sawmill waste into secondary fuel, the tried and tested shredding solutions of Scanhugger provide a valuable solution for your wood waste shredding needs.
OFF CUTS
A robust and reliable shredder is needed when grinding cap timber or offcuts. Our shredders are meticulously developed to be robust and sturdy to specifically handle this usage.
SOLID WOOD WASTE
A sturdy and reliable cutting system is required for shredding solid wood waste. We offer wood waste grinders that are tested and proven in processing all types of solid wood.
PARTICLE AND MDF BOARDS
Our industrial wood shredders are especially well suited for shredding all types of board materials. Both particle boards and MDF boards are shredded reliably and efficiently. We can always offer a trouble-free size reduction solution depending on the board size and the desired throughput rate and granular size.
WOOD SPLINTERS
Scanhugger industrial wood chippers are well proven in the shredding of long wood splinters. The specialized drum chipper is designed to pull splinters in independently and reliably shred them. Our rotary shears are particularly sturdy and have a long service life.
PALLETS AND PACKAGING
Shredding pallets and packaging with metal inclusions as nails, screws and clamps, are no problem at all for the robust Scanhugger cutting unit. After shredding, the metal pieces can be easily removed with a magnet. We offer customized comprehensive solutions for shredding pallets: From shredding machine and discharge unit to metal separation – all from one source
WOODWORKING WASTE
Production waste from the wood processing industries. When shredding woodworking waste from the wood processing industry, it is very important for the shredding machines to maintain high availability particularly in multi-shift operation. Therefor, we build reliable waste grinders that are particularly designed for day in day out performance. Moreover, the low maintenance requirements further increase availability.
VENEERS
Shredding thin veneers appears to be very easy at first glance. But correct wood grinder configuration is a decisive factor here. With our drum chippers with a pusher feed system offers you a customized wood shredding machine especially designed for shredding veneer.
BARK
Two shredding systems are available for shredding bark pending the moister content. The fast turning drum chippers work well with wet bark, while our HL single-shaft series is the preferred system for dry and hard bark.
PAPER AND CARDBOARD
The reliable shredder-system can cost-effectively reduce and shred the material in advance before cartons and paper are pressed into bales and defibred. This volume reduction step can greatly benefit a recycling companies as well as in recycling centers or cardboard and corrugated cardboard factories.