FROM WASTE WOOD TO FINAL FEEDSTOCK FOR BRIQUETTING AND PALLETIZING
We provide world-class customization to your requirements. No two companies are alike – so why should our shredders be any different? We deliver exactly what you need: Individual components to complete systems build to fit your needs. The Scanhugger shredder/re-shredder system is designed to meet your needs with capacities ranging from 500 – 5100 kg/hour. The Scanhugger line-up coupled with a full range of options and auxiliary equipment enables us to build turnkey wood waste utilization systems. The range of Scanhugger auxiliary equipment includes pneumatic discharge systems, chip conveyor and auger discharge systems, metal detection and separation systems. And much more.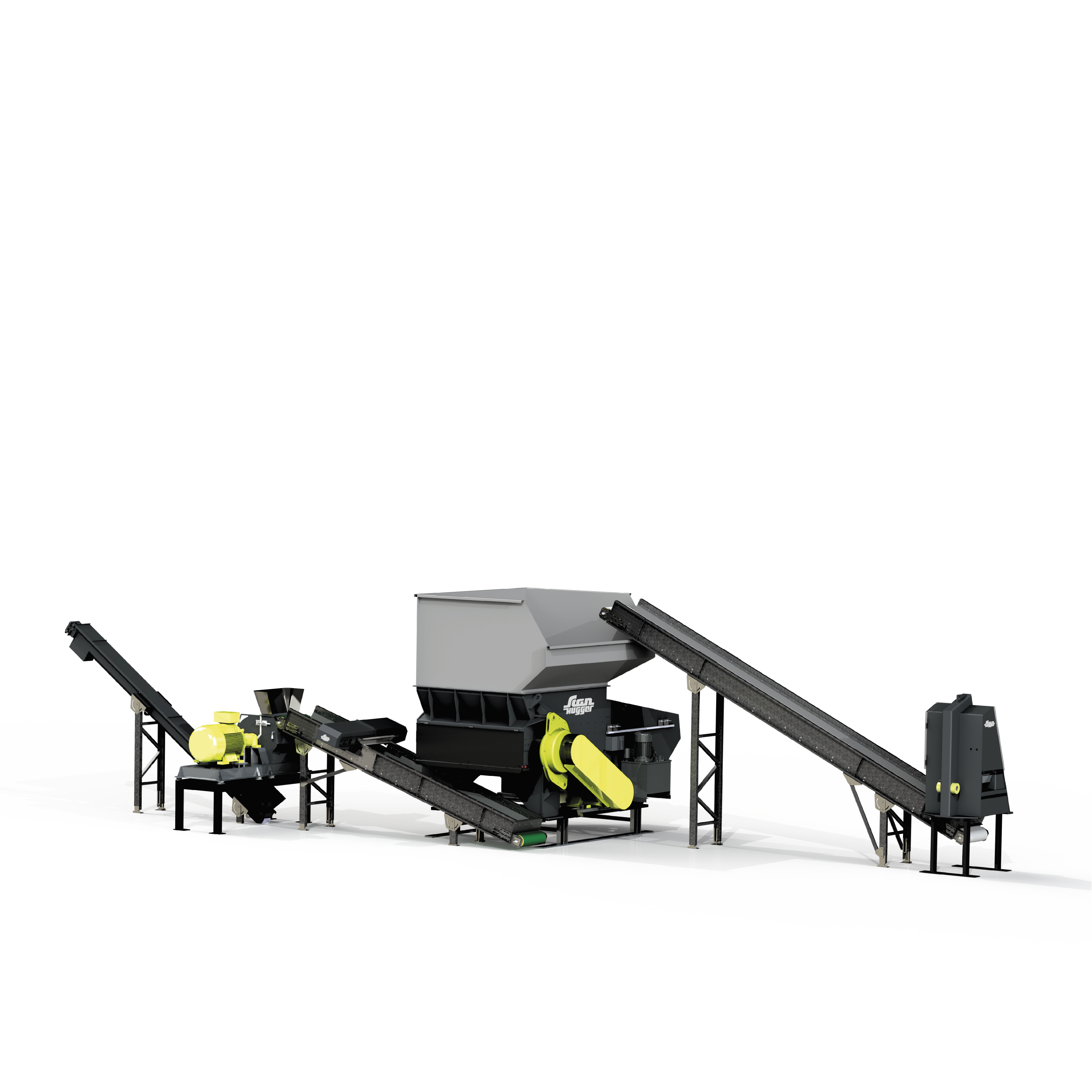 RELIABLE INDUSTRIAL TURNKEY WOOD WASTE SHREDDING SOLUTIONS
Quality chips made according to your needs. We build our reliable industrial wood shredders on more than 40 years of experience. This ensures the production of a homogeneous granulate with day in, day out performance. The granulate from a Scanhugger turnkey wood shredder and chipper can be used directly in your in-house woodchip furnace. But can also be used in biogas plants, biomass co-generation plants and furthermore for the production of wood briquettes. The reduction in size from the waste wood also reduces your disposal, transport and storage costs.
We configure the wood shredder or chipper for woodworking scrap. Exactly according to your needs. Transported to where you need it. Regardless of how you are planning to use the wood chips.
TURNKEY WOOD WASTE SHREDDER RECYCLING SYSTEM IN CHINA
100.000 hours of continuous industrial wood waste shredding.
The turnkey wood recycling system from Scanhugger contains a vibration conveyor that feeds into the Scanhugger HK 55/10 Wood Guillotine. There it is chopped the pieces. The band conveyor carriages the chopped offcuts across the road, and into a reliable Scanhugger HL industrial wood shredder.
The shredded granulate is transported under the HTBM Overbandmagnet, for separation of ferrous metal parts. After separation, the clean wood chips go up to a buffer silo via an auger conveyor. That then goes into the EU-3000 Hammermill. This process further refines the granulate to a 6 mm premium homogeneous granulate. The pipe mounded on the hammer mill's bottom outlet sucks the wood granulate from the hammer mill and into a collection bay. From where it is ready to be used for briquetting.
PREMIUM GRANULATES FREE OF METAL
Metal separation done right.
All our industrial wood shredders and chippers produce a very high quality granulate. The consistent size of the wood chips ensures they are ready for the immediate use in wood chip heating systems or for the production of briquettes. Metal parts are no problem for the cutting system in the HL-series. Metals such as nails, screws, clamps, or metal fittings, can be extracted in the process. The metal is shredded together with the waste wood and can then easily be removed by an additional overbandmagnet, tube magnet, or drum separation system. We got you covered – no matter your preferred output.
THE PERFECTLY SIZED MATERIAL TO THE PELLET OR BRIQUETTE PRESS
Shredded, re-shredded and transported to where you need it.
The Scanhugger Industrial Hammermill is designed to reduce coarse chips of solid wood, particleboard, and MDF to defined particle size. Depending on the material to be processed and the particle size of the final product, the machine can be mounted with different screen and hammer combinations.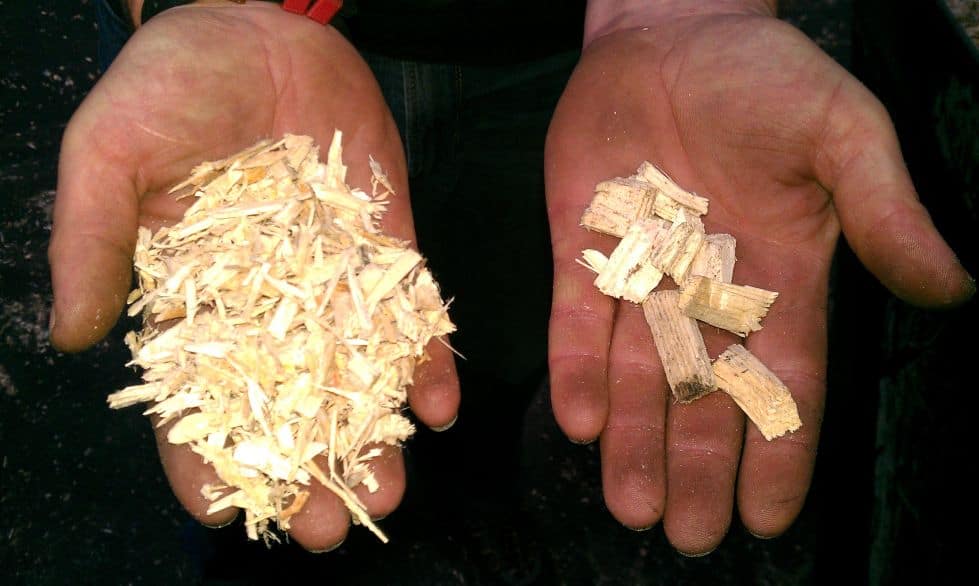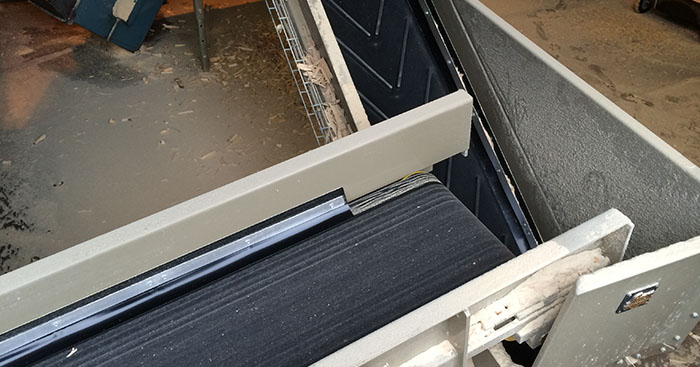 TAILOR-MADE CONVEYING SOLUTIONS
From A to B, and all the stops in between.
We produce a large range of customized conveyor and shredding solutions. Tailored to the optimal material flow for every system in between – to and from. We offer a wide product range. Everything from Chip conveyors, Auger discharge systems, Wood scrap conveyors, Vibration tables, to Custom auxiliary hoppers. Every system is adjustable and adaptable in length and output. With Scanhugger, you can implement a modular system for your conveying needs. Reliably transport small pieces but also bulky goods through the necessary process steps. All the way to the finished product.
Our low maintenance requirements and high availability, enable you to just turn the key and shred away. Our conveyor components are precisely adapted to each other and designed for modular use. This ensures a continuous flow of material in your plant. And contributes significantly to its high overall profitability.