Posted on
6. april 2022
in
Atkinson Fencing Ltd, recycle their waste wood and turn it into valuable bi-products
Atkinson Fencing Ltd is a family-owned business founded by George Atkinson back in the 1970s. George Atkinson began by selling reclaimed timber and firewood, yet today, two generations later, the company has grown into one of the largest independent high-tech fencing manufacturers in the UK with a workforce of up to 100 employees. 
Through a cheerful chat with the current owner Jason Atkinson, the founder's grandson, Jason describes the family business' relation to the Danish company Scanhugger, through generations.  
Atkinson Fencing Ltd was first introduced to Scanhugger in the 1990s, through a Scanhugger agent in the local area of Yorkshire, when the two brothers Brian & Mark Atkinson, went to purchase their first Scanhugger, to help reduce their wood waste and turn it into a valuable resource.  
Unfortunately, a fire took place at the family business around the millennia, for which Atkinson Fencing purchased their second Scanhugger. Here, the Scanhugger has been shredding for approximately 8 hours a day. Turning wood waste from the Atkinson production of fencing, decking, arches, arbors, trellis, furniture, log cabins, summer houses, and sheds, into easily disposable chips.  
In October 2021, the Scanhugger needed a replacement after shredding for more than 46.000+ hours and 20+ years. In the autumn of 2021, Jason Atkinson installed a Scanhugger, HL 4/18/30 – one of the biggest models in the Scanhugger program.  
At Atkinson Ltd, the quality chips of their recycled wood turn into 3 bi-products, which are very valuable for the company. 
Chips to burn for recycling (biomass fuel)

 

Chips for horse arenas

 

Bedding for cows

 
The value of these bi-products is not alone in the profit of selling them, but also in the reduction of transportation, storage, and heating expenses.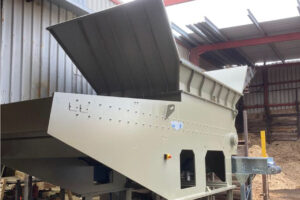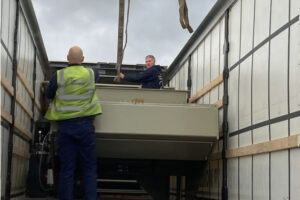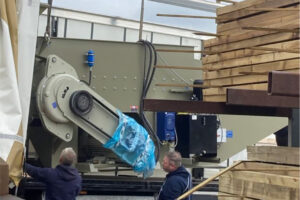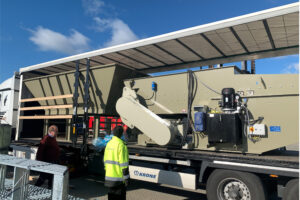 Related posts